It was only last year that Live Skull had begun recording and playing shows (in their guise as New Old Skull). The seminal no wave band is about to release their first new album in over 30 years - and under their original name, to boot. I hit up vocalist/guitarist Mark C for details on the impending record.
Dreams of Consciousness: Hey Mark, what have you been up to since our last interview?
We had a great time at the BC 35 Volume 2 record release party at Market Hotel, an open, un-renovated loft space reminiscent of the venues Live Skull frequented back in the day. Kent Heine played his first show as Live Skull's new bass player; and Marnie and Thalia made guest appearances on vocals. We performed both tracks from BC 35 comps and new songs from our upcoming LP,
Saturday Night Massacre
.
Since then, we finished recording the new album, and more recently started rehearsing with our newest member, guitarist
Dave Hollinghurst
. He played in bands in the burgeoning early 90's Chapel Hill music scene, most notably with
Small
(aka
Small 23
), before moving to New York City; where he's played in
Qatsi/Frozen Falls,
Nicole Atkins & The Sea
, and
Steve Shiffman & The Land Of No
.
DoC: Tell me about Saturday Night Massacre - what was the writing process like? Who performs on it? Where was it recorded?
We recorded the new Live Skull album at Deepsea, my studio across the Hudson in Hoboken, NJ. While rehearsing New Old Skull, Rich, Marnie and I had come up with several jams including the tracks released on the
BC 35 comps
. After the first BC 35 show at
Saint Vitus Bar
, Rich and I continued to jam together and experiment and eventually enlisted Kent -who collaborates with me in
o13
- to join in on bass. We took the most developed jams from all these sessions and the three of us laid down the basic tracks live: Rich on drums, Kent on bass and me on guitar, while doubling as engineer. A bit challenging for me - but we developed a very workable setup - with Kent and Rich in the live room, and me and my amps in the control room.
For the basic tracks Rich played a vintage 60's Rodger's kit and Kent played a '66 Precision bass through a' 62 blonde Bassman head and cabinet; while I played a '64 Stratocaster through 60's blackface Vibrolux and Deluxe reverb amps. By going all vintage we were able to achieve a coherent, classic sound; a rich sonic platform to work from. Next I overdubbed more guitar, keyboards and my vocals; and while we rehearsed for
BC 35 Volume 2
, I recorded Thalia's and Marnie's vocals.
My lyric writing process includes cutups and "found" phrases reconfigured to create an expressive point of view, rather than a straight narrative. For this record, a lot of the language was borrowed from articles about current affairs, lending an atmosphere of urgency and high drama. I edited with an eye to open up the meanings to multiple interpretations from inner personal conflict to social and political critique. The album title is an obvious reference to
Richard Nixon's failed attempts at covering up his crimes as President
and is meant to resonate with our current political situation.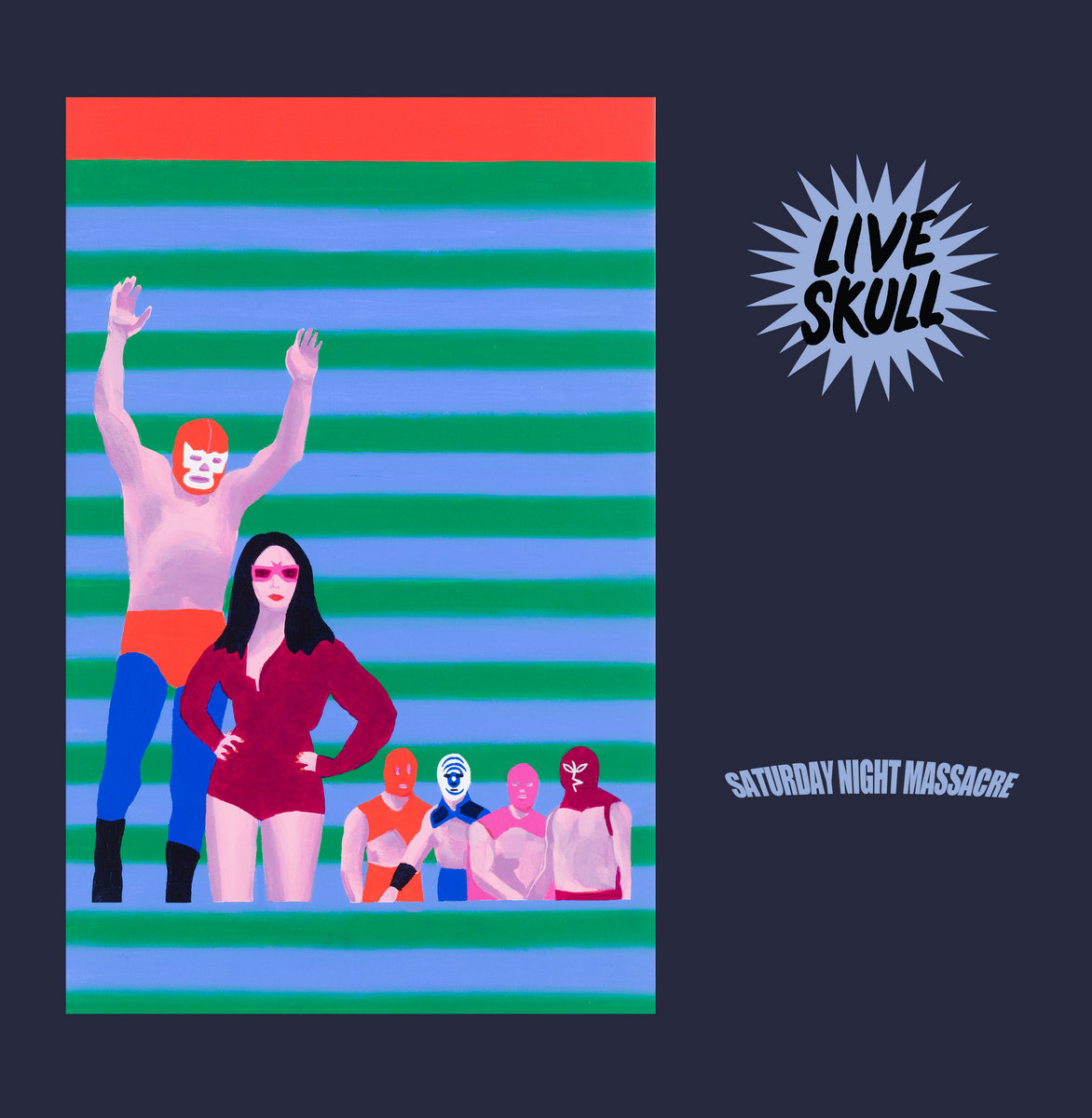 DoC: You were recently performing and recording as New Old Skull. Why did you decide to return to the Live Skull name for this record?
As New Old Skull, Rich, Marnie and I were having a lot of fun playing together again and wanted to further document our work. Sometime after the first BC 35 show I approached Chris and Enrico at the Italian label,
Bronson Recordings
(the label that released both BC 35 compilations) about releasing a New Old Skull album. They were very enthusiastic and signed on. As the project developed and started to get more serious, Chris suggested we consider making it a Live Skull record. Rich and I had to give it some thought, neither of us wanted to look backwards, but we were excited about the new material. We felt that our natural inclinations while playing together were as fresh and vibrant as when we first played together back in the day, exhibiting a similar energy and spirit. By making it a Live Skull album we could push ourselves to go beyond just recording another album; that by adopting the Live Skull moniker we would have to think and play, bigger and badder! We felt confident that we could move forward with the same determination that other versions of the Live Skull line up did, that we could add to and embellish the Live Skull legacy.
DoC: Gary Panter created the album artwork for
SNM
. Why did you choose him to create the cover, and what direction did you give him?
I connected with Gary while I was recording his band
Fog Window
at my studio, and went to see his show of paintings in Chelsea. I immediately connected to the pulp fiction style imagery, and his free spirited and yet deliberate execution on canvas. As the band and I explored more of his recent work we knew his art would resonate on a Live Skull cover. Especially the Lucha Libre paintings, which, with their mix of blustery exhibitionism and comically, feigned aggression, relates closely to the narrative set forth in
Saturday Night Massacre
. Gary thought it would be a good match and generously agreed to the collaboration and we worked with paintings he had already completed. We couldn't be happier with the results.
DoC: In addition to the new album, the original Live Skull albums are being re-mastered and re-released. Tell me about the new editions - who did the remastering, and how would you compare the sound to the originals? What's the timeline for these albums to be re-released?
Limited editions of the first four albums were released in France on vinyl, cd and digital downloads. The reissues included multiple extra tracks, from out takes, rehearsals and live shows; mainly unreleased material, many from cassette recordings in my collection. Tom Paine and I did the research and wrote extensive liner notes recapping the history of the band and exploring the context of each release in terms of Live Skull's trajectory.
I mastered the first four with Warren Russell-Smith at the Magic Shop in Soho. And I worked with Jessica Thompson on
Dusted
,
Snuffer
and
Don't Get Any On You
, while David Bowie was upstairs recording his last album,
Blackstar
!
The Magic Shop
had a reputation for working wonders with older tape masters, which may have deteriorated over time. We used un-played vinyl copies of the LPs, test pressings and original acetates (the early one were never previously released digitally) as guides for comparison.
Back in the day, the sound quality of some of our records didn't live up to our expectations -for various reasons- and we used this opportunity to achieve the sound Live Skull was going for all along. We didn't remix or try and alter or update mixes; we just wanted the releases to sound as transparent and dynamic as the original master mixes did. I feel like we succeeded in that goal allowing the tracks to be heard as we had heard them in the studio. The crew at
The Magic Shop
did such an expert job, that even the roughly recorded cassette recordings sound great.
DoC: The last time we spoke, the Live Skull Bandcamp page was being managed by your former label. Is the page back in the band's control now, and can people order music from there without issue?
Yes, we now have control of the Bandcamp page: You can purchase digital downloads of the first four re-releases with extra tracks and preorder
Saturday Night Massacre
on vinyl, cd and digital download! The original tracks of the last four records should be available soon for download as well. We are still working on a deal to reissue all the LPs with the extra tracks on vinyl and CD. Stay tuned!
DoC: What's next for you?
We will be having a
Saturday Night Massacre
listening party at
Feels
in Ridgewood [Queens, NY] on Nov 7. I'll be talking about the new LP and will have product for sale. Feels is a vintage boutique specializing in avant-garde music, and handmade objects for the home. It's run by
Pat Noecker
(
x-Liars
,) and his wife, Christine.
We are also planning a record release party/live show in NYC in late Nov, or early December (details TBA). We will be touring the E.U. in November, joining
Jon Spencer and the Hitmakers
for a couple of shows in the Netherlands and performing at the
Transmissions XII Festival
in Ravenna Italy.
Live Skull on Facebook
Live Skull on Instagram
Live Skull on Bandcamp
---
Catching A No Wave: