Oakland-based Vale are part of the once-again burgeoning Bay Area metal scene, and has in its line-up past and current members of Mutilation Rites, Black September, and Tombs. Their debut album
Burden of Sight
came out a few months back through The Flenser, and impressed me with its apocalyptic blend of death, black and crusty hardcore. I reached out to Vale to find out more about what brought them together. The band answered my questions together in their van while on tour.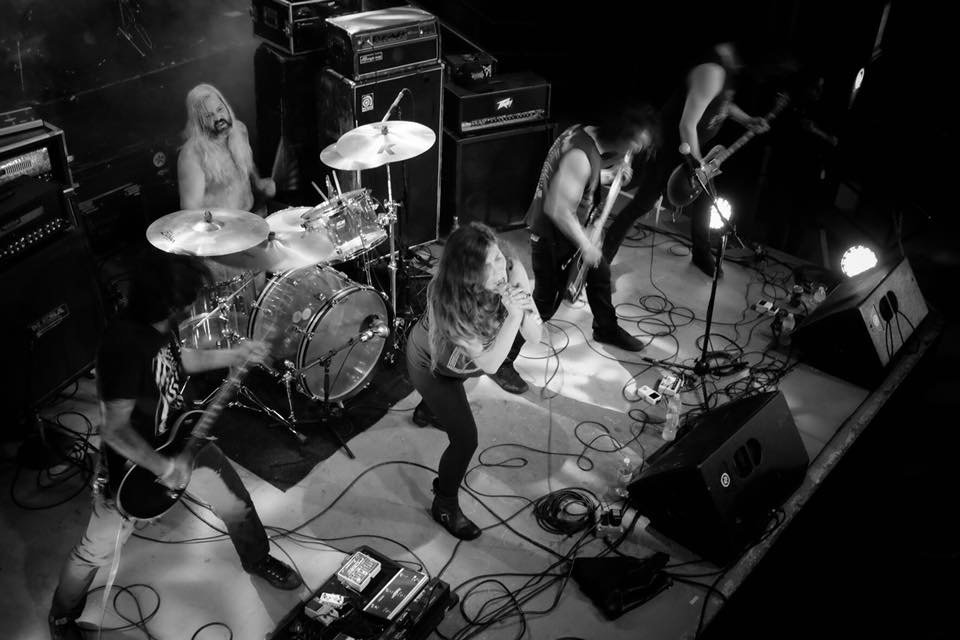 Dreams of Consciousness: What is Vale?
Vale is our band. It means the center of a valley.
DoC: Please give a brief history of your band - when did you form? How and why did you get together?
Vale came together very naturally. We had all been talking with each other about starting a project like this. James [
Meyer - guitarist
] is an old friend of Justin's [
Ennis - drummer
], Daniel [
Borman - guitarist
] is an old friend of Kate's [
Coysh - vocalist
], Thaddaeus [
Borman - bassist/vocalist
] worked with Kate and Justin. Right off the bat, things began to gel. Once we got going, everything fell into place. We all have a very similar vision of what we're trying to accomplish. A lot of times that can be a big struggle in a band, different people wanting different directions. No one's aim is ever fully realized when you're all pulling in different directions.
DoC: Musically, Vale combines elements of a couple different genres (including death/black metal and crust punk). If you could describe your music in 5 words, what would they be?
"Death rattle of our species."
DoC: What is your writing process like? Do you write as a band, or do you have a primary songwriter? How would you describe your development (musical or otherwise) from your first EP til now?
Songwriting is shared by the entire band. Lyrics are written by Kate. The writing process gravitated more towards death and black metal. Writing music has come organically for this project since its inception.
DoC: Your first full-length
Burden of Sight
came out at the end of May. How long had you been working on these songs? How would you compare it to your debut?
We have been working on these songs for two years, immediately following the release of our demo. This full-length differs from the demo in that we consciously strayed away from more the punk rock elements of the previous recording.
DoC: What can you tell me about the lyrics and themes of
Burden of Sight
? What do you want the listener to experience while listening to it?
The lyrics were drawn from a dystopian narrative written by Kate. She dissected the prose, and pulled the protagonist's experience to the forefront of the end of the world. Largely, this record's themes are corrosion of modern society, and the internal destruction we face within our own communities. We want the listeners to have a sobering acceptance of their own mortality and a feeling of desolation. We want them to understand that this future dystopia is not far from our current time.
DoC: Both the EP and the album were recorded by Greg Wilkinson at Earhammer Studios (who has also worked with Body Void, among others). How did he get involved with Vale? What would you say he brings to your sound?
Greg's studio
Earhammer
is a bastion in the Oakland extreme music community. Bands come from all over the world to record with him, and we're lucky enough to have him down the street from our studio. He's an easy-going and extremely talented person, that makes the recording process seamless. He brings his recording expertise. Above all else, he is our personal friend, so he is well versed in how we want to sound.
DoC: How did you end up signing with The Flenser? What would you say you have in common with the other bands on their roster?
Jonathan from Flenser approached us after a live show in San Francisco at the DNA Lounge. One of the best things about working with The Flenser is that all the bands sound very different from each other. Jonathan curates and eclectic mix of darkness, and isn't bound by genre.
DoC: It seems like in the last 10 years there has been a resurgence in the Bay Area metal scene. How would you describe the scene as it currently is? Who do you see as your peers?
The Oakland scene is fertile ground for metal right now. It's a destination city for musicians to move to, and new bands are being formed all the time. Our peer group is vast and includes countless bands both current and retired, but one band that stands out is our Flenser lablemates
Ails
whose
legacy
spans decades.
DoC: What's next for Vale?
We are in the middle of a full North American tour.
Our homecoming show
will be in Oakland at The Elbo Room alongside and
Ails
and
Thoabath
on July 27th. Order our new record
Burden of Sight
from
valeoakland.bandcamp.com
. Vale isn't taking a break after this tour, and are writing our next record.
Vale on Facebook
Vale on Bandcamp
---
Beyond The Vale: