I've been shilling for Sweden's Mammoth Storm for years now - their debut EP is one of the heaviest slabs of stoner doom to be released in the last decade; and with their subsequent releases (2015's
Fornjot
and the recently released
Alruna
) the band expanded their sound while retaining their commitment to rumbling low end. Bassist/vocalist Daniel Arvidsson was kind enough to answer my questions about the band's history and their latest album.
Dreams of Consciousness: Please introduce Mammoth Storm - who are you, where are you from, and how do you describe the music you make?
We´re a band from a small town in Sweden called Säffle. The band consists of me, Daniel Arvidsson - Bass & Vocals; Chrsiter Ström - Guitars; and Emil Ahlman - Drums. The music of Mammoth Storm can best be described as Epic Doom with influences in Stoner, Black and Death Metal.
DoC: Please give a brief history of Mammoth Storm - what led to you forming, and what were your goals at the time?
It was back in 2012 that we decided to start this band. Me and Emil had played a little bit together, some covers and stuff. But together with Christer we felt that it would be cool to start up a project together.
For me personally, have been playing with
Draconian
for years, I felt a strong urge to start up a new band on the side from that, playing more a kind of music which I felt closer to my heart. Anyway, I guess the first intention was to play a kind Stoner Doom, without being some kind of copy to the influential bands at that time like
Electric Wizard
,
Sleep
,
Yob
, etc. We really wanted to be our twist to it all where you could hear our influences from all kinds of genres.
DoC: I'm a big fan of the first Mammoth Storm EP. What were your intentions with it? How would you describe your development (musical or otherwise) from your first EP til now?
On
Rites of Ascension
, which was originally released as a demo, it was clear that we wanted to make something really heavy and really raw. These were the first songs we've made and I think it can be heard because we hadn't really found our sound so clearly yet. Although we felt it was starting to develop already there.
This was also the first time I've been doing vocals in a band in about 20 years, so clearly there was some development needed there, haha.
Since then I think the band has come a long way. Both in the music and as a band in all. We still have elements in the music from that time in our songs but now there is a more epic feeling to it all and not so raw and direct as on
Rites
. We have definitely found our sound since then and we are all in sync on what our sounds is and will be.
Also I think my vocals has improved a lot since then both with confidence and technique.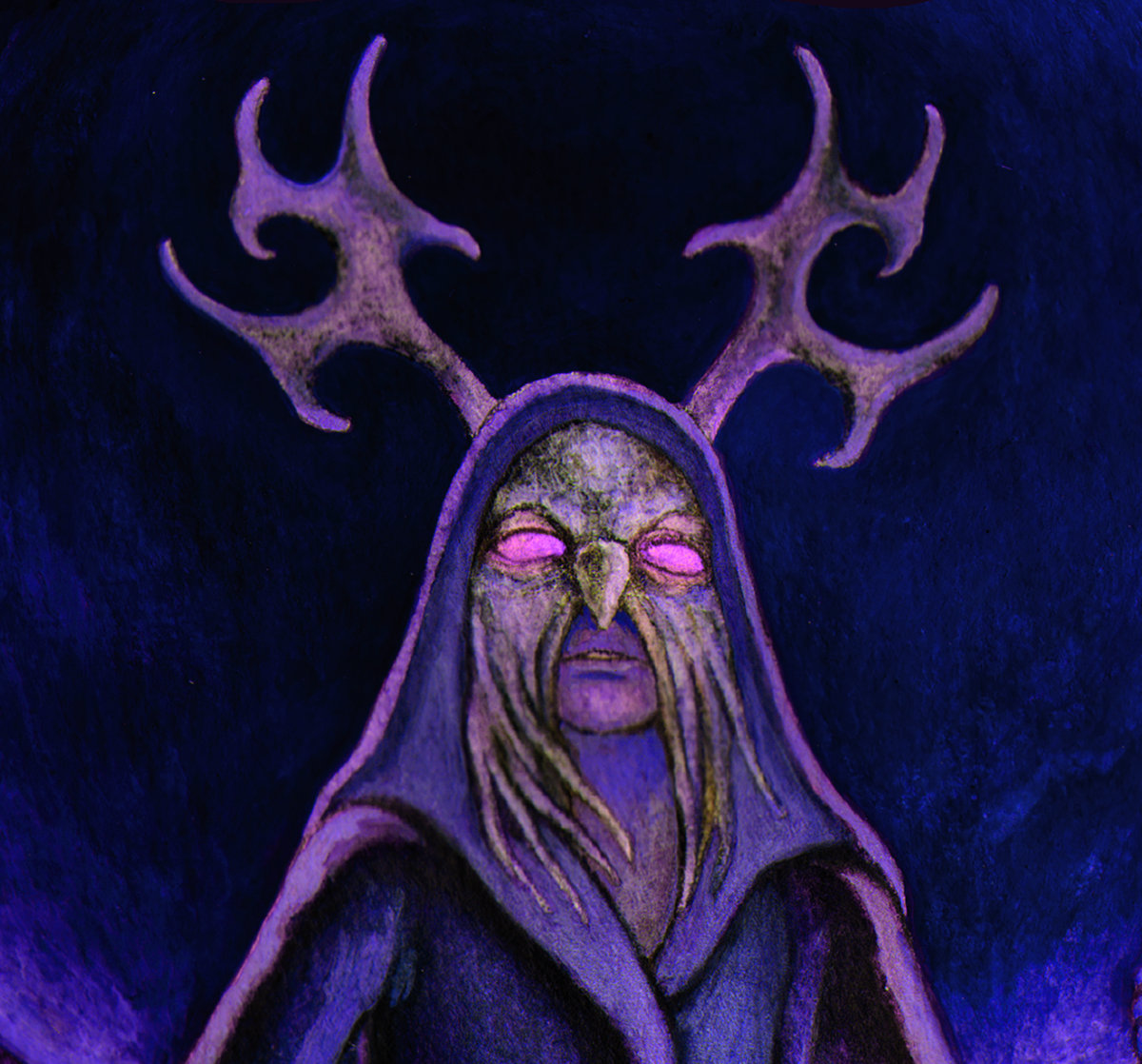 DoC: Who is the horned/bearded figure that appears on your album artwork, and how does he relate to your music? Why did you choose him to represent your band?
Well, he first appeared on the
Rites
EP. Emil, who is making all our album covers and prints came up with this dude and he has sort of become our mascot in a way I guess.
Although I'm sure Emil could explain this better than me, but he is a kind of Shaman.
Although I have my own twist of it and I had him in mind when I wrote the lyrics for "Horns of Jura" which is about a sect called just Horns of Jura which is a sect worshipping nature and all its beings, including sacrifices, etc., and calling themselves "Jura" after that era in time.
Guess we need to put on a name for this fella as well, hehe.
DoC: You just released your second album
Alruna
. How long have you been working on it? Where was it recorded? How would you compare it to your previous album Fornjot? What do you want listeners to experience while listening to it?
Nobody can blame us for being a very productive band I guess. To be honest we're all kind of lazy when it comes to making stuff. More or less song writings for
Alruna
began as soon as
Fornjot
was released. I'm always working on songs at home and have tons of ideas laying around on my PC at home. But it took long for us to put it all together and making it in to the studio to record them.
But finally we did and we recorded it in
Dead Dog Farm
, which is a studio I have together with my co-musicians in Draconian. We've recorded all our albums there and always with our friend
Johan Ericson
engineering it. It has become our home base and Johan knows what kind of sound we're after and it has really good skills to get us what we want so its a no-brainer really.
The music on
Alruna
differs a bit from
Fornjot
I guess. There's a little bit more complexity to the songs, and I think and want the listeners to hear that we have developed as a band, but still keep true to our sound, and that we can keep doing our thing and still keep it interesting for everyone who listens and has followed the band. Also, I want the listeners to get an idea off how massive the songs could sound live because, trust me, it will sound massive, as Mammoth Storm always does.
DoC: Four years passed between the release of your two albums. What led to the gap in time?
Much do to our own laziness unfortunately. But also we had some trouble with getting it released at first. After
Fornjot,
Napalm Records
didn't think we sold enough during to their standards (although we were completely sold out and they refused to print more copies. It's a weird world this music business), so they decided not to extend our contract for one more album.
We were looking for a new contract for a while and then decided to release it through Jon [Davis] of
Conan
's late
Black Bow Records
. The album was actually recorded, mixed and mastered already in the beginning of May 2018. Unfortunately, due to some delays, and losing a member of the band, things didn't work out. But then we went for
Argonauta Records
and things have been awesome in every matter with them and yeah, here we are. It took some time, but finally it's out.


DoC: What can you tell me about the lyrics on
Alruna
- what subjects and themes inspire you? Is there a running concept through all the Mammoth Storm releases?
It's very different actually, and not really a red line between the songs in general.
Since its both me and Emil writing the lyrics, we come up with different ideas and different themes. But a thing in common with most of the lyrics is an element of mysticism, folklore and mythology. History is also something coming back in our lyrics. Like for "Atra Mors" for instance, which is about the plague in the 1300's. When on the other hand a song like "Giants" has kind of metaphorical lyrics.
Seemingly the listeners can be fooled that its about actual mythological giants, but in truth it's actually about the giant corporations (won't mention names ;) ) taking over the world and industries, brainwashing people's minds and just do what the fuck they want to make their profits, trampling over whoever is in their way.
DoC: "Shores of the Dead" switches back and forth between your usual vocal style and a lower, more "death metal" growl. Why the change-up?
"Shores" is a bit of a different song compared to the traditional Mammoth sound. Much because it was all written by Christer. I felt I wanted to do something more variety with the vocals for this one. We are not afraid to experiment and don't want to stick to one frame. If we feel something feels right and fits, then we do it. In the end, there are no rules for how music should sound and Mammoth Storm is no exception. I think the results came out alright in the end so perhaps there will be more of that kind of thing in the future.
DoC: Alruna was released by the Italian stoner/doom/sludge label Argonauta Records. How did you get involved with them?
Well, I pretty much answered that question already. But to continue on that I can just say that Argonauta turned out be such a dedicated and professional label and we are really happy that we went with them. Also working with
Mona Miluski
again (A metal super woman who we've known for long) is amazing, so it was so obvious this was the right way to go for us.
DoC: What's next for Mammoth Storm?
Next for us is that we need to get together and start working on new songs actually. I have already 3-4 songs ready to be tested in the rehearsal place and I know the other guys have ideas as well, so that's what we need to do. Don't really have any gigs or tours booked at the moment (lazy there as well). But we need and want to get out on the road ASAP to let the crowds here our songs live and get blasted away by the Mammoth Storm coming their way. So hopefully there will be lots of gigs during the Autumn/Winter.
At the moment I write this now I just got informed by Argonauta that our album is already sold out! But there shall be more pressings on the way and the link to their sale site is
here
.
Also you can check out
our Bandcamp site
where you can get our releases in digital form and soon also vinyls, cds and merchandise will be available, so stay tuned!
Doom On!
Mammoth Storm on Facebook
Mammoth Storm on Bandcamp
Mammoth Storm on Instagram
---
Doom On: